Instructions for iOS devices
For Apple iPad / iPhone
IMPORTANT: You cannot complete the download via a desktop or laptop computer. You will need to be using your iOS device.
---
1. Download the iOS app for
To read the magazine on your iPhone or iPad, you'll need to download the FREE magazine app to your iOS device.

Once you've found the magazine app, tap or click the "download" icon.
---
2. Sign in to the magazine app
To access your digital content you first need to 'Sign-in' by tapping on the highlighted area on your device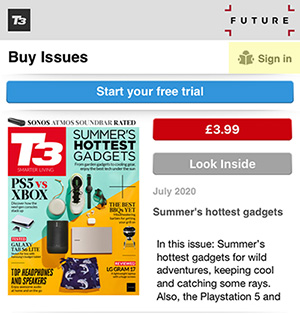 ---
3. Sign in with email address and password
Once you have located the sign-in screen please enter your email address and password
Customers who placed ONLINE orders via magazinesDirect can use the temporary default password Digital123# (capital 'D')
You can change your password to something more memorable here: Change Digital Access Password
---
IMPORTANT:
Your Digital Access Password is
separate
from the password used to administer your subscription account at
www.myMagazine.co.uk
---
4. View Content
To start reading the magazine content, go to the 'Store' or 'Library' screen and look for the download button next to each magazine issue.
Once the download is complete, a 'Read' button will appear next to the issue.
If you have problems, please contact us by email help@magazinesdirect.com
---
Instructions for digital devices
The digital part of your subscription will officially begin with the next issue, however we have made the current issue available to you free of charge from today. You can use your order number or your Subscription Number to log into the app.
---
Make a note of your Order Number that can be found on your confirmation email.
Install app from the depending on your device.
FOR IOS: Open the app and tap the cog or menu bar in the top corner. Select 'Account', then select 'Existing Subscriptions' and enter your Order Number.
FOR ANDROID: Open the app and sign in by tapping the person icon in the top corner, then tap on 'Existing Subscriptions' and enter your Order Number in the account ID box.
---